Career Opportunities
Why work at Calvert Education?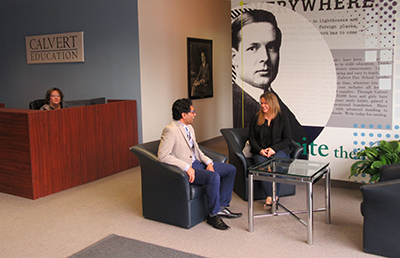 Our employees are a critical part of our mission to enable parents and teachers to offer the best possible education to their students. We are seeking new team members with creative ideas who are as committed to making a difference in education as we are. If you're excited about the future of education, consider your next career opportunity with Calvert.

Location
Calvert Education is located in Hunt Valley, Maryland, just north of Baltimore.
The Baltimore metropolitan area is ranked as one of U.S. News and World Reports Top 100 Cities and is emerging as an edtech hub with a growing network of technology companies, established education companies, and research universities such as Johns Hopkins and Towson University.

Benefits
Calvert Education offers an excellent benefits package including medical, dental, life, long-term disability, and a retirement plan. Paid vacation, sick, and holiday leave are also offered.

Open Positions
Instructional Design Specialist, K–8 Math
Enrollment Center Quality Training Specialist

Are you interested in a career at Calvert?
Please send us your resume.
We will contact you if a position matching your skills and qualifications becomes available.
Calvert Education Services is an Equal Opportunity Employer.