6th Grade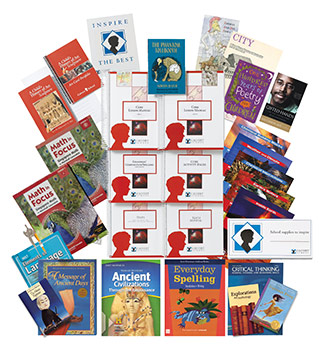 Calvert's comprehensive curriculum materials include everything you need for a full year of teaching.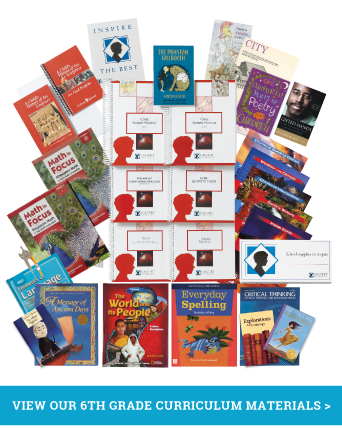 An Emphasis on Life Skills and Independent Learning
Our 6th Grade curriculum will expand your child's knowledge of classic American literature by delving into works of Emily Dickinson, Robert Frost, and Langston Hughes. These pieces will supplement your child's learning of sentence diagramming, which is unique among contemporary educators. The spelling unit that is covered in 6th Grade includes many cross-curriculum words from other subjects and integrates with phonics instruction.
Two different math options are available with our 6th Grade curriculum:  1) Calvert Math, a traditional math program where students review common mathematical operations, fractions, and decimals, and dive into integers, graphing, statistics, and problem-solving or 2) Math in Focus, a new, modernized math approach where students use integers to represent positive and negative real world quantities, relate fractions, decimals, and percents, as well as generate and identify equivalent expressions.
Other subject areas, such as World History, Technology, and Art are covered in depth in our 6th Grade curriculum. Your child will explore the birth of Western Civilization from the dawn of man through the fall of Rome. In geography, a student will travel to Asia, Africa, Australia, and Antarctica, where he or she will also learn about the environment, weather, and climates in their sciences. Our technology lessons cover operation systems, URLs, Web searches, and presentation software. Finally, to cultivate your child's creativity, 6th Grade will also cover hands on art lessons coordinated with art history.
The Tools You Need Plus Unlimited Support
Our comprehensive 6th Grade homeschool program includes everything you need to successfully educate your child at home: print textbooks, workbooks, reading books, maps, science and math kits, activity pages, tests, and more!  Our print and online Lesson Manuals include complete daily lesson plans and step-by-step instructions.
All Calvert programs also include access to the Calvert Teaching Navigator, our innovative online resource that makes homeschooling with Calvert easier and more flexible than ever before.  Plus, every enrollment includes free, unlimited Teacher Support from our highly trained and certified Education Counselors.
What your child will learn in 6th Grade:
Using guided lessons to read children's classics
Building critical thinking skills

Icon

Spelling & Vocabulary

Reinforcing correct spelling through daily exercises and spelling strategies
Reviewing commonly misspelled words
Introducing cross-curricular words
Integrating spelling with phonics, vocabulary studies, reading, and writing
Enhancing vocabulary study

Writing original works
Research reports
Bibliographies
Narrative, expository, creative, descriptive, and persuasive writing
Poetry
News articles

Studying parts of speech
Analyzing and diagramming simple and compound sentences
Mechanics; correct usage

Reviewing common mathematical operations, fractions, and decimals
Geometry
Measurement
Integers
Graphing
Statistics
Problem solving
Ratio and proportion
Percent, data analysis, and graphs
Solving one- and two-step equations with integers
Coordinate graphing

Using integers to represent positive and negative real-world quantities
Dividing fractions, improper fractions, and mixed numbers
Multiplying and dividing decimals
Understanding the concepts of ratio, rate, and percent
Relating fractions, decimals, and percents
Generating and identifying equivalent expressions
Finding the area of geometric figures
Finding the surface area and volume of prisms
Using dot plots and histograms

Students study the nature of science, measurement, and data to form a foundation for conducting scientific investigations throughout the course. Earth Science topics are explored through STEM activities that encourage scientific thought. Topics covered include:

Astronomy
Geology
Oceanography
Meteorology

Icon

Technology

Lessons, activities, and online interactive learning tools are integrated with curriculum, particularly Grammar and Science.

Operating systems and browsing
Word processing software
Spelling and grammar tools
Formatting reports
Graphics
Spreadsheet software
Layout
Presentation software
URLs
Web searches

Studying the works of Dickinson, Hughes, and Frost

Icon

History and Geography

Students explore ancient civilizations from early
humans through the Renaissance.

The development of culture and societies
Early civilizations in Egypt, China, India, and Greece
Relationship between the past and present
Tools of historians

Using Hillyer and Huey's A Child's History of Art to study sculpture from ancient Egypt through modern artists

Coordinating with Art History study:

Egyptian line drawing
Soft-dough sculpture
Relief sculpture
Symmetry design
Additional Information
DO YOU HAVE QUESTIONS ABOUT OUR 6TH GRADE PROGRAM?
Call now for your free consultation with an Enrollment Advisor: 1-888-487-4652.