Kindergarten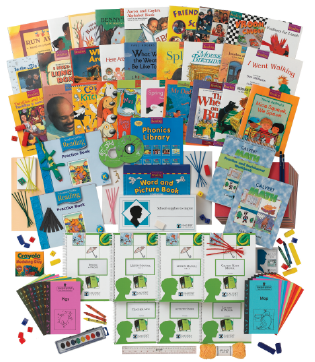 Calvert's comprehensive curriculum materials include everything you need for a full year of teaching.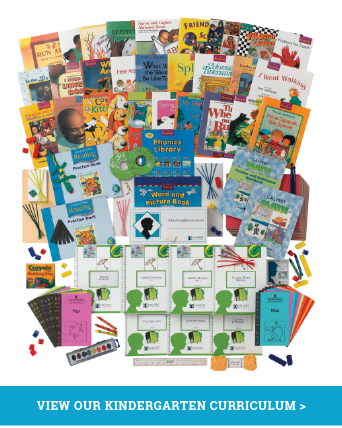 Hands-on Active Learning
Calvert's hands-on Kindergarten curriculum will prepare your child for 1st Grade. The basis of our interactive curriculum is a seamless interdisciplinary education intertwined with an introduction to basic technology and computer skills.
Colorful read-aloud books cover themes like friendship, family, and transportation while introducing reading skills such as phonics, sequencing, auditory and visual discrimination, classifying, and rhyming. Students combine these beginning reading skills and later practice reading on their own using our delightful phonics storybooks which refine your child's reading skills and address specific phonics skills such as short vowel and consonant sounds. These skills will be further reinforced as they begin to learn formal printing skills. We integrate our reading materials with the sciences and social studies to create a seamless interdisciplinary education. The Kindergarten curriculum also begins to introduce age-appropriate topics in science, poetry, and art.
Expanding the student's number range by introducing them to numbers up to 100, this course also includes the study of shapes, problem-solving, and ordering numbers. These skills will be crucial when the students are simultaneously taking technology lessons to learn basic computer skills, such as word processing and graphics applications.
The Tools You Need Plus Unlimited Support
Our comprehensive Kindergarten homeschool program includes everything you need to successfully educate your child at home: print textbooks, workbooks, reading books, maps, science and math kits, activity pages, tests, and more! Our print and online Lesson Manuals include complete daily lesson plans and step-by-step instructions.
All Calvert programs also include access to the Calvert Teaching Navigator, our innovative online resource that makes homeschooling with Calvert easier and more flexible than ever before. Plus, every enrollment includes free, unlimited Teacher Support from our highly trained and certified Education Counselors.
What your child will learn in Kindergarten:
Emphasizing phonics to teach short vowels and consonant sounds
Logical/chronological sequencing
Auditory/visual discrimination
Classifying
Rhyming
Reading 19 phonics storybooks

Icon

Spelling & Vocabulary

Identifying word beginnings and endings
Controlled vocabulary of short vowel words
Key words

Developing fine motor control
Option of printing letters, words, and simple sentences
Use of graphic organizers

Developing oral expression
Constructing asking/telling sentences
Capital letters to start sentences and punctuation

Counting and writing numbers 0–100
Patterns, shapes, and understanding data from pictures
Properties of addition and subtraction
Problem solving; graphing
Ordering numbers
Matching sets
Probability, time concepts
Fraction concepts

Seasons
Five senses
Space
Differences among land, air, and water
Weather
Plants and Animals
Natural Resources
Health

Icon

Technology

Lessons, activities, and online interactive learning tools are integrated with the curriculum.

Keyboard and mouse basics
Parts of a computer
Introduction to word processing
Beginning graphics skill

Enjoying and memorizing poems, rhymes, traditional children's songs
Finger plays

Famous people and events (e.g., U.S. presidents, Martin Luther King Jr., Fourth of July, Thanksgiving, etc.)
Where people live, families, communities, and animal habitats

Painting
Drawing with crayons and chalk
Clay
Craft activities
Additional Information
DO YOU HAVE QUESTIONS ABOUT OUR KINDERGARTEN PROGRAM?
Call now for your free consultation with an Enrollment Advisor: 1-888-487-4652.