Mysti Rolenc – Author – Calvert Homeschooler
Calvert Education boasts the successes of all of our students.  We are proud to have such a rich history and proud tradition and look forward to showcasing the accomplishments of our students, current and former.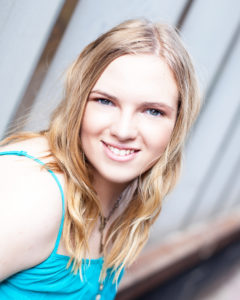 To that end, we'd like to introduce you to Mysti Rolenc, author of the Kaitty Lorenz series.  Ms. Rolenc has authored two novels: , Kaitty Lorenz: New Life and Kaitty Lorenz: Under Siege. We recently had the opportunity to talk with Mysti about her writing and her schooling with Calvert: 
What is your current profession or project?  Tell us about your recent success or something unique you have done.  
I am in my senior year of high school (I have been home schooled my whole life) and my professions include writing novels and photography. I have published two novels in a series (the Kaitty Lorenz series), the first, Kaitty Lorenz: New Life, being when I was 14 and the second, Kaitty Lorenz: Under Siege, when I was 16. I am now working on the third book of the series.
What inspired you to start this profession or project?
Honestly, being able to create my own story world was probably one of the biggest inspirations. You can control what happens in the story! You could make it the nicest story ever, or you could make this chaotic story where nothing ever seems to go right and make your characters hate you for everything you've put them through in the process (the latter is true for me)! Another is God. He gave me this writing talent to share encouraging stories with others, and that's what I want to do!
Do you have any advice for young students who are considering your profession?  Any tips you'd like to share?
I have learned so much since I started, I'm afraid it would take a year to explain them all! But I will do my best!
First, remember that if you want to write a story, you can! Don't let anyone tell you that you can't! I am so blessed to have such an encouraging family. They never told me I couldn't. But I know there are some out there that think you won't be able to do it. Prove them wrong! If it's your dream, chase it!
Second, and you'll learn this after having written for a while, you WILL be critiqued. You might even be criticized. Good! This builds character in you and it helps you learn how to do things better! Think about it: no great writer started off great. They had to work at it to get there! Being critiqued is great (when done properly) because it teaches you new things. Would you learn anything if everyone told you it was great all the time?
Third, if you're serious about writing, make time for it each day. That's a great way to improve. Remember, it won't be perfect the first time, but write it anyway! That is was editing is for, to fix the things that are bad. Find classes that teach the type of writing you want to do, such as poetry or novels. It helps to have a more experienced mentor to show you how to improve.
At what age/ grade(s) did you use the Calvert program?  Do you feel the Calvert program helped prepare you for your current career?
I started in Kindergarten and went all the way through eighth grade with Calvert. I absolutely feel that the Calvert program helped to prepare me for this career! Even when I was with Calvert, they had such emphasis on writing, not just in the language arts section but in just about every other class. It really helped me to build up my writing skills and improve on them.

Want to learn more about Mysti or the Kaitty Lorenz series?
Kaitty Lorenz Book Series Facebook 

Would you like to share your Calvert Success Story? If you're a Calvert parent, student, or alumni, we'd love to hear from you! Fill out this form and tell us more about your experiences with Calvert! Also, be sure to share your students' accomplishments, awards, and achievements pertaining to academics and/ or extra-curricular activities.