Scott Ritzmann – National Merit Scholar Semi-Finalist – Calvert Homeschooler
We are always excited to hear about the success of our students, both past and present.  We received word of Scott Ritzmann's accomplishments last week and we're very excited to share them with you.  We also want to thank his parents for acknowledging Calvert's role in Scott's educational successes.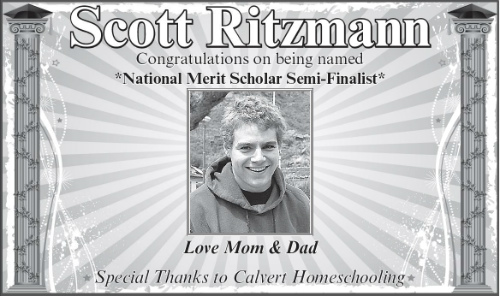 Scott's father provided us with some additional insights into Scott's successes and we wanted to share those with you too.
After 3 years of self-education in high school, Scott applied to several colleges. He has narrowed it down to a couple with UT Austin's Plan II & Geosystems Engineering being the front-runner. I used to drone on and on during science classes about how water resource management was going to be a huge field during Scott's lifetime and lo & behold, there is a tremendous program geared towards that field just down the road at UT. Simultaneously getting a degree in Plan II Honors will leave him well-prepared for graduate school.
He has played every sport imaginable as that was always an excuse to drop what we were doing and go outside! His favorites are football, ice hockey and dodgeball.
He has been signed to a modeling agency in NYC since he was 15. This year he is moving out of the development phase now that he's gotten older and we hope to see him walking in New York Fall Fashion Week in the Spring.
As we worked to rebuild our home after Hurricane Ike, I came to count on Scott and he ended up surprising me by how hard he worked and how supportive he was. His mother & I have always known he's a good kid but we were both pleasantly surprised by his maturity during that awful time.
Homeschooling gave us endless opportunities to take breaks! We've been to the Big Bend National Park more times than I can count and Scott has been everywhere from a hockey boarding camp in Toronto to a Holy Land cruise. Last year Peru was calling and that was one of his favorite trips.  All told, Scott has visited over twenty countries and the vast majority of that travel was during the middle school years when he could pack up and go at a moment's notice, thanks to the Calvert curriculum's flexibility.
Scott performed design and function trials on a leg brace adjunct that we developed which is currently in review by the United States Patent Office. Several manufacturers of Medicare-approved leg braces have been in contact with us about the design and hopefully we'll be getting some good news on that front in the near future.  USPTO App# 13/601,375 Ankle Cuff
So many people have asked why we homeschooled Scott. The biggest assumption is that we had religious reasons. In our particular case this couldn't be further from the truth. This was a secular decision based completely on the standards of achievement that were being followed by our ISD. They simply were not challenging. Scott has had a full and varied childhood and it may not have happened with the restrictive scheduling and "one size fits all" curriculum that are incumbent with the public school system. – Mike Ritzmann
Congratulations to Scott.  We wish you continued success in your future endeavors!
Would you like to share your Calvert Success Story? If you're a Calvert parent, student, or alumni, we'd love to hear from you! Fill out this form and tell us more about your experiences with Calvert! Also, be sure to share your students' accomplishments, awards, and achievements pertaining to academics and/ or extra-curricular activities.