Guide to Homeschooling Success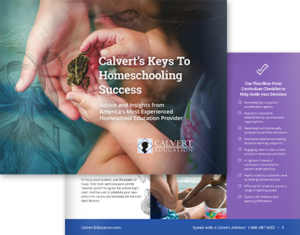 Calvert Homeschool™ is pleased to present you with our Free Guide To Homeschooling Success, which contains valuable insights and advice gleaned from more than a century of homeschooling experience. Calvert has helped parents educate more than 600,000 students. We work every day to help families succeed, with our fully accredited, flexible PreK–12 curriculum and unparalleled support.
The guide shares the seven key elements to a successful homeschool experience, including:
The 6 key support elements you need to succeed
Links to your State's requirements
Tips on setting your home learning environment
Our 9-point homeschool curriculum checklist
Whatever your reason for turning to the homeschool option, we believe you'll find Calvert's Keys To Homeschooling Success to be a most helpful guide.
Fill out the form below to download your free copy of
Calvert's Keys to Homeschooling Success.