Advisory Teaching Service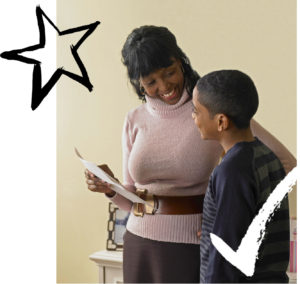 Families seeking additional support may enroll in the Calvert Advisory Teaching Service (ATS). Students enrolled in Calvert's Advisory Teaching Service are assigned an Advisory Teacher who provides evaluations of your child's work in all subjects, including detailed feedback on composition, mechanics, and processing skills. Students receive a personal letter with each set of corrected tests providing additional motivation and support. Additionally, ATS students may also request their official transcripts. Advisory Teaching Service enrollment begins a partnership that will reinforce and support your homeschool journey.

Advisory Teaching Service (ATS) benefits include:
An assigned teacher who sees your child through completion of his or her course
An evaluation of your child's ATS assessments in all subjects
Detailed feedback on composition, mechanics, and processing skills
Motivation and encouragement for your child to do his or her best work
Suggestions for improved study and insightful comments
A partner to reinforce the observations and instructional priorities that you, the Learning Guide, have set for your child
A certificate of completion and an official transcript (available upon request) which may help fulfill your state's reporting requirements
The Advisory Teaching Service Placement Process
Available for students in Kindergarten-12th Grade. Students in grades 4-8 are required to complete a Free Placement Test to be eligible for Advisory Teaching Service enrollment. Upon completion of the placement test, a Placement Counselor will contact you to discuss your child's test results. Students in grades 9-12 are required to complete the i-Ready diagnostic assessment. Upon completion, an Academic Coach will discuss the results and assist in course selection.

Additional Information
DO YOU HAVE QUESTIONS ABOUT OUR ADVISORY TEACHING SERVICE?
Call now for your free consultation with an Enrollment Advisor: 1-888-487-4652.