7th Grade
Developing Skills for the Future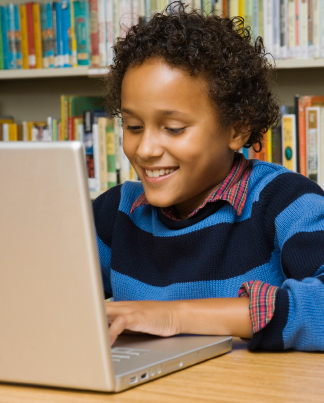 From English Language Arts to Life Science and History, our 7th Grade homeschool curriculum focuses on further developing your child's research, analysis, and writing skills.
You will help your child:
Continue to build strong grammar and composition skills through descriptive and expository writing.
Deepen literary analysis skills while reading works from accomplished and world renowned authors and poets.
Conduct meaningful research into the areas of ecology, the environment, cells, heredity and more in Life Science.
Explore the founding principles of the U.S. government and our rights and responsibilities as citizens.
Develop more advanced math skills as he/she works with algebraic equations, rational numbers, statistics and probability, and plane and solid figures.
Designed to help parents meet common state homeschooling requirements, each year-long course consists of 18-25 lessons and 160-180 days of instruction.
What your child will learn in 7th Grade:
Icon

English Language Arts

Projects emphasize gathering information from texts and conducting research to form opinions which students present through a variety of methods. Learners increase their skills by interpreting the ubiquitous information available in our digital age and presenting their analysis through digital means. They are tasked with creating a presentation to the leaders of world nations regarding human colonization of space and writing an art critique by taking virtual tours of the world's most famous museums.

Students develop a strong conceptual understanding of Math skills and concepts. They draw on problem-solving skills and prior knowledge to simplify and solve algebraic expressions, approximate probability and relative frequency, and construct different geometric figures. Students learn to identify the plane shapes, and then use those skills to assemble a three-dimensional object.

Engaging in virtual labs and diverse instructional materials creates a rich learning experience. Grade 7 students explore Life Science through inquiry and scientific thought. Topics include cell function, processes of plants, animal behavior, the systems of the human body, and ecology.

How can today's students relate to events of the past? Grade 7 students study U.S. History from the first Americans through the American Revolution, the Civil War, and Reconstruction. Then they develop a social media campaign to convince colonists to either declare independence or stay loyal to England.

Icon

Art and Art History 7: Architecture

In this online course, students apply concepts from Art History, incorporating what they have learned about trilithons and step pyramids, to design various buildings and structures.

In this online course, students will gain a basic understanding of fitness and nutrition. In this online course, they will learn about exercise technique and proper posture, warm up and cool down. Students conduct fitness assessments, set goals, develop their own fitness program, and participate in weekly physical activity.
Learn More
DO YOU HAVE QUESTIONS ABOUT OUR 7TH GRADE PROGRAM?
Call now for your free consultation with an Enrollment Advisor: 1-877-878-8045.