8th Grade
Reinforcing Skills; Preparing for High School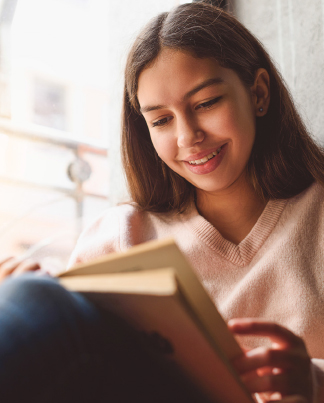 Can you imagine how the American Revolution would have unfolded if Samuel Adams had access to social media? How many people would have shown up for the Boston Tea Party?
Applying a 21st Century perspective and tools to the past, Calvert homeschool curriculum challenges your 8th Grader to consider the implications of historical movements on modern culture.
To solidify the skills needed to excel in high school, your student will:
Sharpen historical thinking, analysis, and research skills while studying America's history – from pre-history through westward expansion.
Develop more nuanced writing and literary analysis skills by examining the impact of tone and structure.
Reinforce math skills and concepts learned to-date while advancing to the study of functions; bi-variate data; and transformations, congruence, and similarity.
Deepen his/her understanding of the properties of sound, light, matter, and energy through virtual labs and digital simulations.
Designed to help parents meet common state homeschooling requirements, each year-long course consists of approximately 18-25 lessons and more than 160 days of instruction.
What your child will learn in 8th Grade:
Icon

English Language Arts

Students increase ownership of their reading growth by forming opinions through research and tackling social issues. Students research rites of passage in cultures throughout the world and compose an article in which they use journalism techniques to illuminate various rites. After reading Elie Wiesel's Nobel-Peace-Prize-winning book, Night, students will research a current global issue and write a speech modeled after Wiesel's Nobel acceptance speech, calling the audience to action.

Students draw on problem-solving skills and prior knowledge to develop a deep understanding of algebraic equations through data analysis and statistical applications and through an exploration of functions including graphing linear equations. Students will also learn about exponential and scientific notation, the Pythagorean Theorem, and how to apply geometric transformations. Learners are challenged to use equations to compare fitness center membership options.

Grade 8 students use prerequisite knowledge of Physical Science to deepen their understanding of topics such as the properties of matter, chemical bonding and reactions, motion, forces, energy, and the properties of sound and light waves. Virtual labs and digital simulations create an engaging experience for Middle School learners.

Students explore the essential elements, themes, and branches of the geography of the Eastern and Western hemispheres. They delve into the founding principles and practices of U.S. Government and explore topics in economics. Students learn by completing projects such as drafting public policy on an issue they care about and taking steps to effect positive change in their community.

Icon

Middle School Career Explorations

In this online course, students explore career options in many different fields including business, health science, public administration, the arts, and information technology.

This online course provides students with a basic understanding of the importance of staying active throughout their lifetime. Students will learn about exercise safety, team and individual sports, nutrition and myths and misperceptions about nutrition and drugs.
Learn More
DO YOU HAVE QUESTIONS ABOUT OUR 8TH GRADE PROGRAM?
Call now for your free consultation with an Enrollment Advisor: 1-877-878-8045.