8th Grade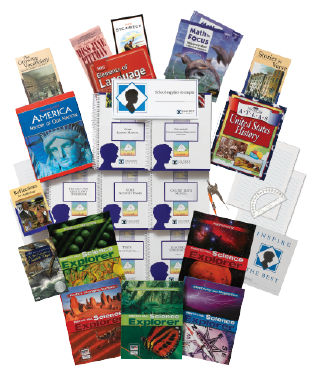 Calvert's comprehensive curriculum materials include everything you need for a full year of teaching.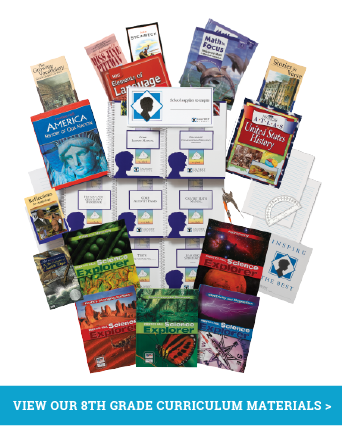 Solidifying Knowledge and Preparing for High School
Our 8th Grade curriculum begins to bring together the necessary tools and topics to fully equip your child for success in high school and all endeavors proceeding graduation. Students will study narrative poetry and prose that correspond to our American History program. Through literature, textbooks, atlas, and geography workbooks, your child is immersed in the country's intellectual, physical, and political identities.
Two different math options are available with our 8th Grade curriculum:  1) Calvert Math, a traditional math program where students begin pre-algebra, scientific notation, constructions, angles, irrational numbers, and data and statistics. or 2) Math in Focus, a new, modernized math approach where students understand and use exponents and their properties, use systems of equations to solve real-world problems, identify relations and functions, and solve problems involving proportional reasoning and similar figures.
At this stage in our curriculum, your child's vocabulary and grammar skills are intertwined, and reading comprehension is built through poetry reading, speeches, sonnets, plays, and award-winning novels. Physical, life and earth sciences such as electricity, magnetism,  genetics, space, topography, and erosion are covered in the science section of our curriculum. Finally, students further develop their technology skills in desktop publishing, presentation creation, spreadsheets, and HTML.
The Tools You Need Plus Unlimited Support
Our comprehensive 8th grade homeschool program includes everything you need to successfully educate your child at home:  print textbooks, workbooks, reading books, maps, science and math kits, activity pages, tests, and more!  Our print and online Lesson Manuals include complete daily lesson plans and step-by-step instructions.
All Calvert programs also include access to the Calvert Teaching Navigator, our innovative online resource that makes homeschooling with Calvert easier and more flexible than ever before.  Plus, every enrollment includes free, unlimited Teacher Support from our highly trained and certified Education Counselors.
What your child will learn in 8th Grade:
Reading literary classics
Studying literary devices

Icon

Spelling & Vocabulary

Completing spelling lessons drawn from other subject areas

Writing in various styles—descriptive, narrative, persuasive, and explanatory
Building research skills
Taking notes
Outlining
Proofreading; editing
Writing letters

Reviewing geographic themes in the historical context of the United States
Chronological evaluation of the spatial growth of the United States between 1500 and the present; includes land acquisitions, wars, economic expansion, immigration, and settlement patterns
Historical demographic patterns, climatic issues, and landform constraints as the United States entered the 21st century

Reviewing and using parts of speech
Diagramming noun, adverb, and adjective clauses
Studying gerunds, infinitives, and participles
Grammar and usage
Building paragraphs and varied sentences

Pre-algebra
Reviewing problem-solving skills, geometry
Scientific notation
2-step algebraic equations, inequalities
Constructions
Vertical/adjacent angles
Tangent; sine; cosine
Absolute value
Rational/irrational numbers
Compound and open number sentences
Surface area and volume
Coordinate graphing functions
Fractions, exponents, ratios, and proportions
Polygons and transformations
Data and statistics
Algebraic relationships, linear functions

Using exponents and their properties
Representing and calculating numbers in scientific notation
Using linear equations in two variables to represent the relationship between two quantities
Representing the equation of a line in slope-intercept form
Solving a system of two linear equations in two variables using algebraic and graphical methods
Using systems of equations to solve real-world problems
Identifying relations and functions
Identifying linear and nonlinear functions
Using the Pythagorean Theorem and distance formula
Finding the coordinates of points after translations, reflections, rotations, and dilations
Using tests to prove congruence or similarity between pairs of triangles
Solving problems involving proportional reasoning and similar figures
Using a line of best fit in a scatter plot to make predictions
Calculating probabilities of independent and dependent events

Physical Science is explored through the topics of:

The properties of matter
Chemical bonding and reactions
Motion, forces, and energy
Environmental science
The properties of sound and light waves

This course incorporates many optional digitally-rich features for an engaging experience that nurtures 21st century skills critical to college and career readiness.

Icon

Technology

Lessons, activities, and online interactive learning tools are integrated with the curriculum, particularly Grammar and Science.

Continuing application of word processing, spreadsheet, and presentation software
Basics of HTML
Desktop publishing

Understanding elements of poetry
Narrative poetry
Imagery
Blank verse
Reading, interpreting, and memorizing selections

Studying U.S. history from discovery to modern America
Building the nation
U.S. role in world events
Charts, maps, and illustrations
Additional Information
DO YOU HAVE QUESTIONS ABOUT OUR 8TH GRADE PROGRAM?
Call now for your free consultation with an Enrollment Advisor: 1-888-487-4652.