Calvert Academy™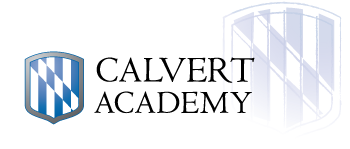 Calvert Academy is an accredited, online private school for 3rd-12th grade students. This complete, diploma-granting program combines the flexibility of at-home learning with a rigorous academic curriculum.
Students enrolled in our private school will work with their Learning Guide (typically a parent, adult relative, or tutor), who acts as the primary instructor. The Learning Guide instructs his/her student using Calvert's daily lessons. The Calvert Academy teacher supports the Learning Guide and student by delivering weekly live lessons, providing feedback on assessments, and assisting students with questions via phone and email. Calvert Academy teachers are also available for 1:1 or small group support, in an online classroom environment, on an as-needed basis.
Our online course sessions and interactive tools also provide a unique opportunity for students to engage with peers, work on collaborative projects, and develop relationships with fellow Calvert Academy students in a fun and engaging environment.
Curriculum and Courses
The Calvert Academy Online Private School uses the Calvert Education curriculum and offers a comprehensive educational experience. Our academically rigorous, college preparatory program is reflective of the highest international standards and will prepare your student for success in college and beyond.
Our course offerings include core subject areas such as Math, Science, History, and Language Arts, along with various World Language courses, and electives options. See Calvert's High School curriculum.
Faculty and Support
While our Calvert Academy students learn virtually, from their own homes, our certified teachers will provide your student with:
Engaging, interactive, live online class sessions
Small group sessions including group projects/presentations, peer collaboration sessions, group tutoring sessions, and opportunities for interactivity across subject areas
Grading of all coursework with positive feedback and suggestions for areas of improvement
Weekly office hours for student tutoring, support, encouragement, and parent consultations
Along with teacher instruction, all Calvert Academy High School students receive academic advisement. Your child's Academic Coach will ensure your child is on track, stay abreast of any academic concerns, assist with course selection, discuss your child's academic and career goals, and help with college readiness.

Accreditation and High School Diploma
Calvert Academy is an accredited program, ensuring that your student receives a high-quality education with transcripts recognized by schools, colleges, universities, and employers throughout the world.
As a complete, diploma-granting program, Calvert Academy offers U.S. and International students the ability to earn a U.S. High School Diploma certified through the State of Maryland.
NCAA Athletes – Calvert Academy offers a selection of high school courses that are approved by the NCAA and can be used for NCAA athletic eligibility. For more information and a listing of eligible courses, please visit the NCAA Eligibility Site and use CEEB code 210712.
Activities, Clubs, and Interactions
As part of a full private school program, Calvert Academy students have the unique opportunity to interact with students around the world, not only through our online, interactive courses, but also by participating in our various events, activities, student government opportunities, and clubs.
Our Calvert Academy clubs differ depending on the semester and the student grade level, but generally include teacher-supervised activities such as a school newspaper, radio show productions, theater clubs, poetry clubs, peer-to-peer tutoring, and more!
Academy students who meet the requirements for membership are eligible to be invited for membership into the Calvert Academy Chapter of the National Honor Society.
Learn More
DO YOU HAVE QUESTIONS ABOUT CALVERT ACADEMY™?
If you feel your child would benefit from Calvert Academy Online Private School, please call 1-877-878-8045 or contact us for information on admission requirements, placement, and course start dates.