Pearl S. Buck – Calvert Homeschooler
In past weeks, we told you about two notable Calvert Homeschool alumni, Barack Obama and William F. Buckley, Jr.  This week, we'd like to tell you about yet another Calvert Homeschool student, Pearl S. Buck.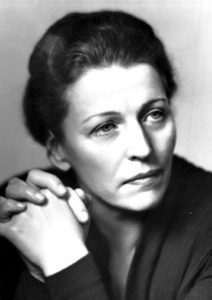 Born in Hillsboro, West Virginia in 1892, Pearl Sydenstricker Buck was the daughter of missionaries.  Soon after Pearl's birth, her family returned to China to continue their missionary work.  Pearl's early education began with Calvert's Homeschool Curriculum:
"The Sydnenstricker sisters worked through a correspondence course supplied by the Calvert School in Baltimore–history, geography, scripture, composition, and mathematics–with extra tuition in painting, music, and calisthenics…"  Pearl Buck in China: Journey to The Good Earth By Hilary Spurling.
In Pearl's book, My Several Worlds: A Personal Record  By Pearl S. Buck, she describes her childhood education:
"Those were strange conflicting days when in the morning I sat over American schoolbooks and learned the lessons assigned to me by my mother, who faithfully followed the Calvert system in my education, while in the afternoon I studied under the wholly different tutelage of Mr. Kung."
After numerous life-changing experiences in China, Pearl began to write short stories and essays.  These were published in periodicals such as Nation, The Chinese Recorder, Asia, and Atlantic Monthly.  Her first novel, East Wind, West Wind, was published in 1930.
Pearl's second book, The Good  Earth, became the best-selling book of both 1931 and 1932 and won the Pulitzer Prize.
In 1938, Pearl became the first American woman to win the Nobel Prize in literature!
By the time of her death in 1973, Pearl published over seventy books, novels, short-story collections, biographies, an auto-biography, drama, poetry, children's literature, and Chinese translations.
Active in American civil rights and women's rights activities, Pearl later founded a non-profit organization dedicated to cultural exchange and understanding between Asia and the West. Outraged that adoption agencies considered Asian and mixed-race children "un-adoptable", in 1949 Pearl established Welcome House, the first international, inter-racial adoption agency.
Pearl S. Buck International continues the legacy of Pearl S. Buck by building a global community for families and children through adoption, child sponsorship, and community programs.
"The secret of joy in work is contained in one word – excellence. To know how to do something well is to enjoy it."

– Pearl S. Buck
Calvert is proud to have played a role in the education of such an influential person in global and American history.