Math in Focus – A Different Approach
Parents have asked me over and over again what I think of the new Math in Focus, and how it compares to Calvert math. Having some 16 years of experience with Calvert Math – and its previous iterations – I think I can say honestly that it is an excellent and thorough program. I was quite content and a little hesitant when Calvert said they were introducing Singapore.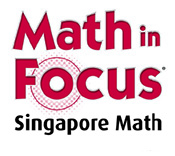 However, last year I used Math in Focus method with my second grader, and was amazed and pleased with how quickly his computational abilities grew. It was a learning curve for me, and I had to suspend my disbelief at whether or not drawing a "model" of a math problem was worthwhile. Believe me when I say I had a larger learning curve than he did. As the year progressed, his skills burgeoned, and at year's end, he reported that math was his favorite subject. Needless to say, that statement had never come out of a Clan Roe kid's mouth, and I was gobsmacked.
This year my middle son looked at the progress his younger brother was making in math and said he would like to have that kind of mathematical confidence. So that meant transitioning him to Math in Focus, and forcing him to take a step backward mathematically. I know many parents who have said that was exactly the scenario they didn't want with their children. But we are taking the long-term view here, and if mathematics skills are a lifelong necessity, then we are willing to invest the time to get it right.
My third grader's math skills far exceed his older siblings' skills for his age. Today he is mentally calculating sums that his siblings would not have negotiated on paper for another year. And he says math is F-U-N. So what if that meant I had to learn a new way of teaching math? Isn't it about what is best for them?? Yeah, I have whined, but I also have to tell you that I see a difference in my own computational skills, and I understand concepts that heretofore escaped me.
This past weekend, my darling daughter-in-love was sitting at the table with my older son as he was working on calculating square roots. She said, "Wow! I wish someone had shown me that method when I was in school – it makes so much logical sense!" This, from a young woman who is no academic slacker; she is candidating for her Master's degree in the spring.
So, what's my bottom line? Math in Focus is different. It means I had to learn to think differently – but the journey is worth it and I am excited to see what the mathematical futures for these two kids look like down the road. After all, THAT is why I became a homeschool mom in the first place.
---
Gretchen Roe is the Calvert Community Liaison and has been homeschooling for 20 years. She has used and continues to use the Calvert curriculum to educate her 6 children.
Gretchen hosts a variety of free webinars. She offers Calvert Online Information Sessions once a week as well as family seminars on topics ranging from dealing with digital addiction to kick-starting a new school year.