Empowering Independent Thinkers and Learners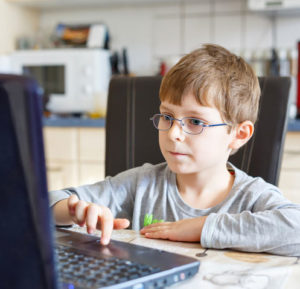 Today, it's more important than ever for students to become independent thinkers and self-directed learners. In tomorrow's workplace, they'll be expected to learn-on-the-go in order to solve problems we can only imagine today.
To help them meet those future challenges, we've redesigned our curriculum—giving students progressively more responsibility for their learning as they advance through our program.
Shifting to a More Student-Centered Approach
As you begin to explore our curriculum, you'll find it has been re-written to encourage students to interact and engage more directly with the material. In effect, the curriculum "speaks" more directly to students:
Inviting younger students to read along with videos of classic children's books.
Instilling numbers-sense with interactive counting games.
Prompting older students to independently explore new concepts in math, science, literature, and history.
Encouraging students to take on increasing levels of responsibility for their work.
Supporting Learning Guides in Their Evolving Role
As parents, you are your students' guide on their path to becoming self-directed, lifelong learners. To help you in that role, we've designed new tools and enhanced materials to help every step of the way:
Suggested daily lessons provide the structure needed to progress through subjects and stay organized.

Teaching notes call out major themes, identify areas where your child may have trouble, and provide suggested alternative teaching approaches or activities.

Online Quick Checks throughout our lessons provide immediate feedback to the student – letting you know when more help or greater challenges are needed.

"The kids are enjoying [the new system] more and are more independent."
— Calvert Parent

As always, our Education Counselors are available by phone or email to answer your questions and provide guidance throughout your educational journey with Calvert.