De-Schooling the Homeschooling Parent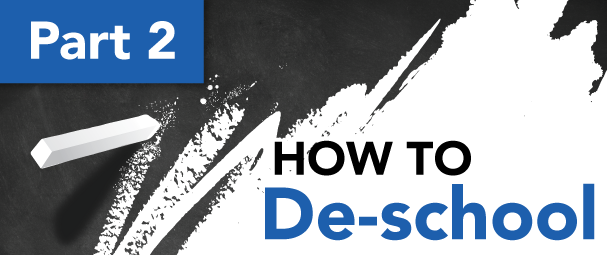 In our previous post, De-Schooling the Homeschooling Child, we told you about the importance of de-schooling your child before starting your Calvert curriculum. In this post, we'd like to continue on that topic by sharing tips to help de-school the parent.
What is de-schooling the parent? When thinking about schooling and education, many parents think of traditional public school classrooms. Some parents even think back to their own school days, sitting in hard chairs in rows of desks in front of the chalkboard with the teacher's desk at the front of the room.  As a new homeschooler, your mind-set needs to change. Take everything you know about the typical school environment and forget it! Instead, focus on doing what works for your family. Remember: if the classroom environment didn't work for your child, it doesn't make sense to replicate it at home!
Here are some "rules" related to the typical school environment and how to modify your thinking as a homeschooling parent.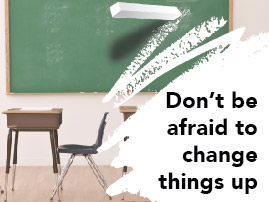 You don't have to replicate the school environment at home.
Homeschooling doesn't have to be similar to a school environment. The most important thing is to carefully observe what is effective for your family and what is not. What makes you the most comfortable? What makes you the most productive? Don't be afraid to try something new and don't worry about changing things up if something isn't working. Also remember that each child within the family is different. What works for one child may not work for another child.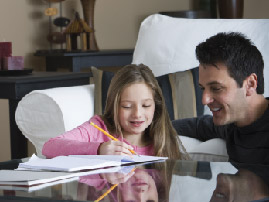 Your children don't have to sit at a desk and chair.
Many new homeschooling families purchase desks, chairs, tables, and other furniture pieces to replicate the school classroom. After a few months, many families find that their children are more productive working at the kitchen table, reading on the couch, or doing a math sheet in the bean bag chair. One Calvert mom even sent us a picture of her son doing a reading assignment while sitting on a kitchen chair in the sun in the backyard! As long as your children are focusing on their coursework and completing assignments, allow them to be as comfortable as possible – wherever that may be.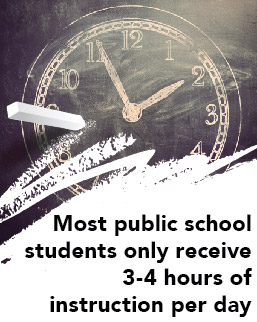 School does not have to last 7-8 hours a day.
A typical public or private school day often lasts 7-8 hours. How much of that time is spent standing line? Waiting for classmates to finish assignments? Waiting for the recess or lunch bell? Attending assemblies? Listening to announcements? Most public school students only receive 3-4 hours of actual instruction time per day!
Depending on the grade level, most Calvert families finish their schoolwork in 3-5 hours each day. This frees up a lot of time for hobbies and interests, field trips, doctor's appointments, and more.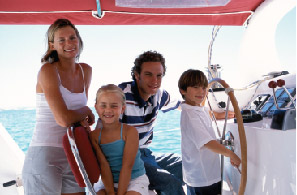 You don't have to follow a traditional school-year calendar.
Most public and private schools follow a traditional August/Sept. – May/June school year calendar with summers off. As a homeschooler, YOU can choose your own calendar. Some families school year- round and take more vacation days throughout the year. Some families school January – Sept. and take a long winter break. Other families modify their calendars based on their vacation times. Don't be afraid to do what is right for your family.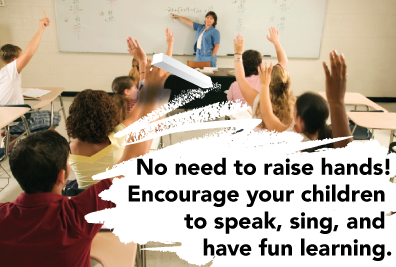 Children do not have to be quiet.
In a public school with 20+ children per classroom and hundreds of students in a school, it's very important for children to be quiet so as not to disrupt others. In fact, many elementary school students tell their parents that they're not even allowed to talk at lunch!
Encourage your children to talk. Engage in discussions with them. Talk about what you read. Invite them to read out loud. For a little extra fun, invite them to read aloud using various voices or dialects. Invite your children to shout their multiplication tables or sing their vocabulary word definitions. Children are meant to be noisy! Allow them to speak, sing, shout, and have fun while learning.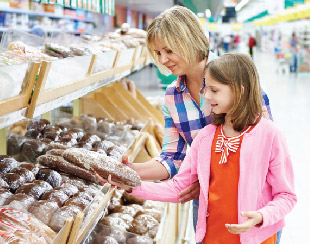 Learning can be done outside the classroom.
Take advantage of learning opportunities, even when they don't happen during the typical school day. If it's Saturday afternoon and your son asks questions about the structure of a jellyfish, go with it! Help him look up the answers online or make a quick trip to the library to check out some books. Follow his interests. When grocery shopping, ask your child questions. Is the 40oz laundry detergent a better deal than the 100oz detergent? If yogurt is on sale for 5/$3.00, how much does one container of yogurt cost? Be sure to look for opportunities to make non-school activities educational and teach important life skills outside of the school day.
New to homeschooling? Wondering where or how to begin?
Our Education Counselors are available to all enrolled families for free consultations to help you with alternative teaching strategies, to answer specific curriculum questions, to offer practical advice on how to help students stay focused, and to help you customize lessons and curriculum that best meet your child's needs.
Now is the best time to make the switch to homeschooling!
ENROLL NOW and make this a great school year.
Call 866-816-7157 to speak with an Enrollment Advisor.