Creative Homeschool Teaching Strategies
As a Learning Guide, you may have heard your child question the importance of diagramming or insist that a particular story is so boring, he can't read it. Whether the "problem" subject is grammar, math, history, or science, incorporating creative teaching techniques will not only motivate your child to want to learn more but he may even end up actually liking the subject.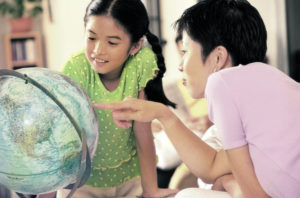 (Or at least tolerate it!) Below, some of our Calvert families share their creative teaching techniques.
Grammar – Think BIG! (Anonymous)
Try this technique to make diagramming sentences fun and easy to correct.
1. Write the sentence to be diagrammed in marker on plain paper in good-size print.
2. Next, have your child cut apart the words of the sentence.
3. Draw a reusable skeleton frame for the diagram on an oversized sheet of paper. (Note: You can make separate add-on pieces for compound subjects or objects, and prepositional phrases.)
4. Have your child arrange the words on the frame. Correct errors by moving the pieces of paper.
World History – Go Globe-Trotting! (Elizabeth DeBarros, Reston, Virginia)
This exercise helps encourage independent learning and fosters an understanding of new cultures.
1. Once a week, spin a globe and let your child stop it with his finger. (If you do not have a globe, use a world map and ask your child to randomly point to a spot.)
2. Have your child research the destination such as the country's capital, population, primary language, and popular exports. He can record his findings in a notebook or on the computer.
3. Discuss what your child learned about the country as you go through your world history curriculum.
Reading – Family Book Club (Mary Alice Ross, Berkley Springs, West Virginia)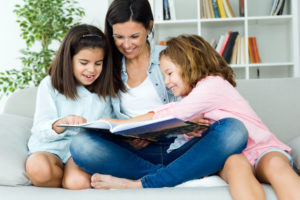 Reading aloud can help your child better understand stories that have challenging vocabulary or dialect. It also strengthens verbal and analytical skills.
1. Take the day's reading assignment and sit down as a family and read it aloud. If you want to include your spouse, schedule the readings before or after your traditional school day.
2. After each chapter, discuss themes and events by asking questions such as "Would you have acted the same way? Do you see this character changing? What do you see happening here?"
3. Have your child answer first and then add your own input.
Vocabulary – Go Fishing (Sharen R. Hodgdon, Barnstead, New Hampshire)
This fun game challenges your child to use new vocabulary words in proper context.
1. Cut index cards in half and write words on them from your child's known and studied vocabulary.
2. Make sure there are at least two of the pronouns (I, We, He, and She) and an equal number of verbs and nouns. NOTE: You can use colored index cards and designate a color for each category.
3. The game is played like "Go Fish" except that the first person to make a complete sentence "wins." The winner gets to write his sentence or email it to a friend or relative.
Writing – Break Through Writer's Block (Courtesy of Laurel Schmidt, author of Seven Times Smarter: 50 Activities, Games and Projects to Develop the Seven Intelligences in Your Child)
Here is a process that allows a visual and/or kinesthetic child to use mapping and color-coding to reduce writer's block and produce some pretty solid writing.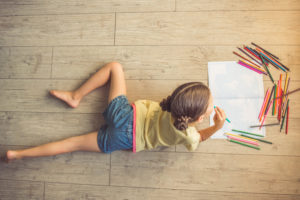 1. Get a big sheet of paper and some colored marking pens. Hang the paper on a wall and stand or spread out on a floor and sprawl. Kinesthetic learners do better when they can move around.
2. Now pose a question—the first of many. "What is one idea that belongs in this essay?" It does not have to be the main idea, or the first, just an idea. Your child can pick a pen, write the idea in big letters, and circle it. If he is a visual learner, he may be more successful if he starts with a quick sketch or cartoon to capture the big ideas before adding words.
3. Ask again, "What is another idea?" Change pens and write. Repeat the process until the main ideas are all spread out on the paper, like colored targets.
4. Ask your child to choose one idea and focus. Ask, "What are some things you know about this idea?" He can then jot down words, phrases, or sentence fragments in the same color. These jottings furnish the details of a paragraph. Move from circle to circle, until a web of words surrounds each idea. This helps visual learners see each paragraph as a cluster of related words and ideas.
5. If you are working on developing rich language, go back and brainstorm adjectives for some of the phrases.
6. Now it is time to structure the writing. Which idea comes first? Which next? Where's the big finish? Kids love Post-its, so give your reluctant writer a stack and have him number them starting at one. Then ask him to stick the Post-its on the main ideas, identifying the sequence of the first draft. At this point, your child will have a color-coded, detailed map of the task and lots of words to jumpstart the writing.
7. Take a stretch break or get a snack and go back to writing. Again, since writing is a process, your child does not have to start with the first paragraph. He can choose the most appealing or fully developed idea and write that paragraph first. The success of getting started will get the juices flowing, so the rest will be easier to tackle.
8. Do not let them get hung up on the opening sentence. It is a tough one for all writers. Sometimes it is written last. Just work piece by piece until they have a first draft.
9. Take another break. Writing is strenuous mental work. Kids need to get away from the first draft and do something physical. Later they can re-read it with fresh eyes and have some fun editing and polishing.
10. Do a little assessment. Ask which sentence is their best. What is the most interesting part of the whole piece? Why? What part was easiest to write? And don't forget to heap on the praise. Writers crave it. Kids thrive on it. Who knows? Eventually you may have a Hemingway in the house.
Do you have helpful teaching tips that you would like to share with us? Please email us your tips and we may publish it in a future edition of Inspire!
Continue the fun of teaching and learning with these books recommended by our Education Counselors.
For Younger Children
The Scrambled States of America by Laurie Keller
Funny and Fabulous Fraction Stories by Dan Greenberg
The Everything Kids' Science Experiments Book: Boil Ice, Float Water, Measure Gravity-Challenge the World Around You! by Tom Robinson
For Older Children
The Declaration of Independence by Sam Fink
Janice VanCleave's Biology For Every Kid: 101 Easy Experiments That Really Work by Janice VanCleave
The Complete Backyard Nature Activity Book: Fun Projects for Kids to Learn About the Wonders of Wildlife and Nature by Robin Michal Koontz