Just A Teacher
"Oh, you're just a teacher."  Those words sting.  Whether you teach at home, in public school, private school, or virtual school – those words come from a person who probably just doesn't understand what you put into it.  Because the misconceptions about public school teachers (done at 3:00 every day is one of our favorites) are often passed on to those who homeschool, we want to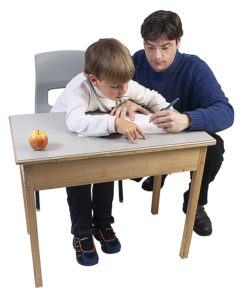 acknowledge a short (and we know incomplete) list of the things that homeschool teachers do.  We appreciate and applaud your efforts –this week, Teacher Appreciation Week, and every week.  Thank you for educating our future!
Be a teacher out of choice rather than by default.

Provide  educational activities that promote physical, social and intellectual growth of your children.

Enhance learning abilities and good habits in your children.

Maintain homeschool records.

Help your children to discover their creativity.

Teach  your children to solve problems independently.

Model appropriate behavior and mannerisms by self example.

Provide activities and materials that engage and challenge your children intellectually.

Understand and implement the use of information technology in your teaching. And be aware that it's always changing.

Shift between formal and informal methods of teaching, like debates, discussions, practical activities, experiments, projects,  and field trips.

Be ready to adjust teaching styles to meet individual needs of your children when schooling more  than one.

Demonstrate honesty and sincerity towards the choice to homeschool.

Accept that no two children will think, act and react alike, and respect that diversity.

Be mindful that you are still learning and be willing to share that you don't know everything with your children.
Calvert Education genuinely appreciates all that you do for you children and we thank you for trusting us to help you facilitate your childrens' education.  Happy Teacher Appreciation Week!