Advanced Learners – The Advantages of Homeschooling

The U.S. Department of Education defines 'gifted students' as "Children and youth with outstanding talent who perform or show the potential for performing at remarkably high levels of accomplishment when compared with others of their age, experience, or environment."
At Calvert Education, we believe that every child has outstanding talent and the potential to excel, whether it's in all subjects or just a few areas of study. Many parents of advanced learners contact us after they've had an unsatisfactory experience in a classroom setting. Public school funding cuts often include budget cuts to programs for gifted and talented students, leaving advanced learners in classrooms where they're not working to their full potential. We have the solution.
Here are just a few of the advantages to homeschooling advanced learners: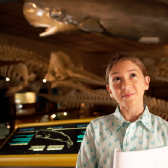 Work at Your Child's Pace – Homeschool students do not have to keep up with -or be held back by- other students in the classroom. They can work at their ideal pace. This allows students to work ahead in their areas of strength and cover materials that challenge them.
Customized Placement – Many advanced and gifted learners don't perform well with a "one size fits all" education. Most students will show advanced skills in specific subject areas, may be on grade level for other subjects, and may even display difficulties in some skills and subjects. Homeschooling allows you to work with your child at the level that suits him or her best for each subject area.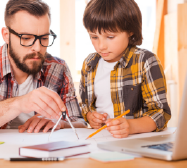 In-Depth Exploration – Does your child have a strong interest in Ancient Greece? Does he enjoy working on difficult Algebra problems or find physics fascinating? Challenge him! Homeschooling allows students to explore topics to a greater degree than in the school classroom where a teacher must move on to another topic. If your child has a specific interest, take some additional time and allow him to delve into that area of interest. Calvert's Education Counselors would be happy to provide some additional reading topics and suggestion to help you encourage your child's study.
Eliminate Boredom – Often times, children who are not challenged in the school setting become bored. Unfortunately, this can lead to acting out and behavior issues. Keep your child on her toes with Calvert's rigorous curriculum, engaging hands-on activities, and online resources.
Calvert families who have advanced learners say:
"I was thrilled with the literature and poetry studies and the science program. I thought it was a very strong academic program and the public school teachers who evaluated it said it was equivalent to a gifted program here (Florida)."
— Kristine

"With Calvert, our daughter's interests in learning and moving through the materials at her own pace has been fully met! Moreover, she's being challenged to think, write, and produce work at a much higher level than what's required in the public school system. That's exactly what she needs, and exactly what we want for her."
— Shana

Read More Success Stories >

Is your child's current learning environment not the right fit?
At Calvert Education, we understand that some students learn differently. Our Education Counselors are available to all enrolled families for free consultations to help you with alternative teaching strategies, to answer specific curriculum questions, to offer practical advice on how to help students stay focused, and to help you customize lessons and curriculum that best meet your child's needs.
Now is the best time to make the switch to homeschooling!
ENROLL NOW and make this a great school year.
Call 866-816-7157 to speak with an Enrollment Advisor.